Stress, Spanish, and Showing Off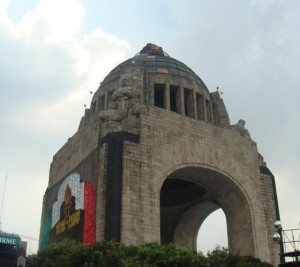 Dateline:  Hilton Reforma International Branch Office.  I can see the Monument to the Revolucion from my spot in the Honors lounge. The fact that I am lounging in the lounge in my over-stuffed cargo shorts is all the proof you need that you can go to school for decades and work sixty hours a week earning money to have breakfast free with Mexico City view, but class is something you inherit.
Stress and the Last Mexico
Tourist Standing Update: From Somewhere, I think.
Another characteristic of the Stress Prone Personality (SSP) is the habit of acting like you know what you are doing when you have no idea at all.  What did you think "Type A" meant?   We SPP's don't ask for help in Home Deport because we don't want to reveal that we don't already know where the shower heads are.  Then, since we are not going to waste our time asking some kid about shower heads, we come back three times before we find one that fits the pipe.
This "tendency" takes on new dimensions when it comes to foreign travel.  We have a slight bent toward acting like we understand the language because we listened to a few tapes and believe we should be fluent by now.
Which is how the following happened.  Off to explore the historic El Centro of Mexico City, the first place drawing me in was the Museo de Familias Migrantes.
I noticed a movie on the immigrant experience, Train de Vie, was about to begin.  A film showcasing Central Americans riding on the tops of freight cars through Mexico fit my mood perfectly.  Also, it was in Spanish, I could practice my skills.  Not that I needed any help.
An attendant led me into the dark theater as the film had started.  I sighed and sat back reveling in my cleverness.  After ten minutes or so, I started wondering why a movie in Spanish had Spanish sub-titles. Hmmm….Perhaps because the movie was in French and Hebrew.  Oh, well, I was delighted knowing the plight of the Guatemalans and Salvadorians crossing through Mexico had gained international attention.  But wait.  Why are the immigrants inside the freight cars?  Those little hats weren't going to be much protection from the sun.
Oh. The immigrants are Jews and Communists escaping through northern Germany during WW II.  Oh, so I missed a couple of words in the movie description.
The good news?  I knew just how to handle the situation.
Below are the thoughts of psychologist sleuth and hopeless horse-jumping addict, Dr. Jessica LeFave on how to survive humililation.
"Copper Mountain (insane show horse) scooped his lovely head down again to nuzzle the wrens. I patted his neck, drinking in the peacefulness, too.  Copper had schooled well, if you don't count the velocity. Even soaked, his copper coat glowed.  Not gold over rubies like when he pranced fresh through the In-Gate under the lights.  Wet, like now, his coat was the color of melted garnets.  Being long-legged and gorgeous can get people to ignore most everything else about a horse.  Hopefully, the same formula would turn the trick for Tanya (Ex-Las Vegas show girl accused of murder.)
Tomorrow would not be about the murder, but about impressing the judge with Copper's skills and beauty. I'd concentrate on perfecting strides, hauling the reins like crazy on Copper's side away from the judge. Because no matter how ridiculously fast Copper Mountain tore around a course, I knew how to put on a face like I was having "just a lovely time, really." –Pharmacy of God.
Update mañana. I'm heading out today to find a miniature Day of the Dead frog playing a guitar. (See 'class' above.)
| | | |
| --- | --- | --- |
| | Print article | This entry was posted by mysteryshrink on August 1, 2011 at 9:29 am, and is filed under Adrift in the Sea of Emotions, Cultivating Your Happy Place, Don't Be an Emotional Prisoner, Just for Fun, Last Mexico Tourist Standing, Love, Dating, and Marriage, Psychobabble Wall of Shame, Reaching Your Goals, Relationships, Society Insanity, Stress Control Central, The Stress Prone Personality. Follow any responses to this post through RSS 2.0. You can leave a response or trackback from your own site. |
No comments yet.
No trackbacks yet.

about 2 days ago - No comments
More Overheard in Vegas  Dateline: By now, from reading Overheard, Pt.1, Pt.2., you know I'm working away at the Professional Bull Riders Rock Bar. I'm on a barstool slugging back coffee and tapping my laptop, surrounded by partiers who are not in Las Vegas to edit a manuscript. Periodically, one of them whacks me on