Stress. The Frog Who Flung Himself Off the Mountain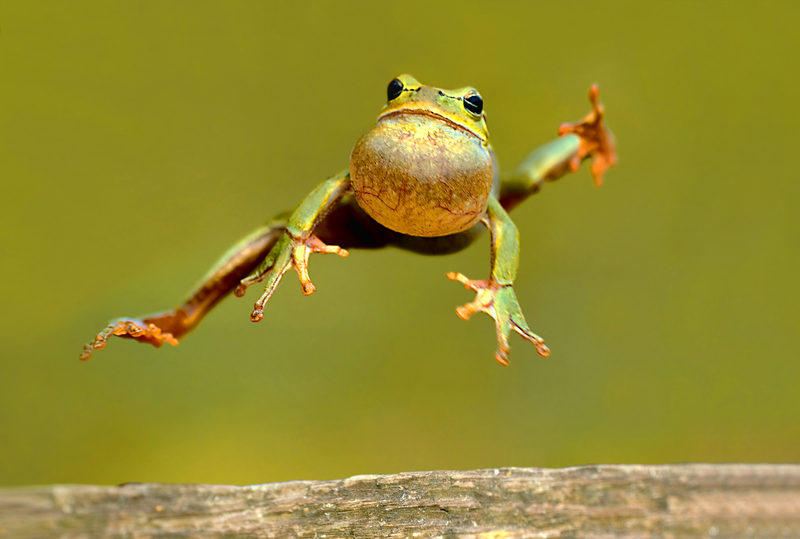 Dateline: Lost in phone tree hell. Everyone's been here. I see your tracks, the bloody scratches on the walls made when you tried to escape to the world of real people.
The Goal: The less you take personally in your life, the better life you will have. Thus, our goal on this site is to learn ways to live more easily and joyfully in this world. One more segment in the true life experience of a psychologist taking Dell Corporation personally.
There's a highland jungle frog about the size of a nickel. His only means of protection is to hop, which often is not sufficient to escape his enemies. His nature is to fight and hop with everything he has, then, if these efforts fail, he clinches his little legs to his sides and throws himself off the mountain.
I now understand the wisdom of the highland jungle frog.
Set-up. To endure the following conclusion to a sad tale of society insanity, you will need to catch up reading part one and part two.
As we return to the Day of Dell, I have just been bumped out of regular Customer Service into the realm of the Executive Resolution Specialist. Executive Resolution Specialist Guy thanks me for choosing Dell and asks me to give him my name, date of birth, and the odds on Texas winning the National Football Championship. He apologizes for the day I have wasted on the phone and assures me he will solve the problem. Sigh of relief. Executive Resolution Specialist Guy puts me on hold.
He returns to the call, has the correct order, and asks for my credit card number, the only number Dell has been receptive to all day. The Executive Resolution Specialist pauses. It is that this juncture that I lose it at a psycho level.
In my family psycho enters the picture when money or getting the best deal comes into the discussion. The family crest is an emblem with the words: WE PAY OUR BILLS. In other families children grow up with warm stories of family holidays and traditions passed down from one happy generation to the next. In my family the stories are about how my predecessors made it through the depression by growing their own food in the backyard and going without shoes.
Thus–when the beast bearing the name Executive Resolution Specialist said the kryptonite words: "Ma'am your credit card has been declined,"…well, given the previous seven hours on the phone…I earthquake level lost it. I regret being in one of my favorite restaurants at that point because I would have liked to return.
We grew up in a cash up front atmosphere where paying interest or a late fee would be equal to armed robbery. Okay maybe equal to burning down a shed. Or amputating one of your own toes.
Remember the ole Pseudo Self? That part of who you are that's negotiable depending on what other people think of you? My Pseudo Self is constructed such that when these words are said, "Your credit card has been declined" what I hear is, "Contrary to the image you give to the rest of the world…you are a DEADBEAT. You WILL go to prison!"
In response to being humiliated (strictly the realm of the pseudo self since you can only humiliate yourself) I launched a roaring rebuttal insisting that the Dell Executive Level Problem Resolver was WRONG WRONG WRONG. I went on to relate my life history as a faithful bill payer and threw around all sorts of high-sounding numbers regarding spending limits to make an impression and clarify my status in the world. I'm not saying I was upset, but one of the waiters came over and slipped a napkin into my view. A napkin that read, "Don't worry about your check. You don't owe us anything."  I assume he meant the free meal as a parting gift.
The corker?  Still in a self-righteous melt-down, I called American Express where I was informed that Dell Executive Level Problem Resolver was RIGHT, RIGHT, RIGHT. Someone had called into American Express automated services and reported my card number as lost or stolen.  Yep. Screwed again in phone tree hell. And, now I sorta needed to call Dell back. I'm thinking put a towel over the phone and fake symptoms of a recent stroke.
| | | |
| --- | --- | --- |
| | Print article | This entry was posted by mysteryshrink on October 6, 2011 at 2:58 pm, and is filed under Adrift in the Sea of Emotions, Cultivating Your Happy Place, customer service, cyber, Don't Be an Emotional Prisoner, Focus on the Person You Can Change, Front Page, Just for Fun, Learning to Think, phone trees, Psychobabble Wall of Shame, Reaching Your Goals, resilient child, Society Insanity, Stress Control Central, The Self Designed Life, The Stress Prone Personality, What Works and What Doesn't. Follow any responses to this post through RSS 2.0. You can leave a response or trackback from your own site. |
No comments yet.
No trackbacks yet.

about 2 days ago - No comments
More Overheard in Vegas  Dateline: By now, from reading Overheard, Pt.1, Pt.2., you know I'm working away at the Professional Bull Riders Rock Bar. I'm on a barstool slugging back coffee and tapping my laptop, surrounded by partiers who are not in Las Vegas to edit a manuscript. Periodically, one of them whacks me on